KIHASA Commemorates Its 51st Anniversary, Declaring a New Vision for Paving the New Way for Korea's Welfare State
Media Date : 2021-07-21
News Media : The Medicine Daily
Translated from an Article of the Medicine Daily, July 21, 2021
On Its 51st Anniversary, KIHASA Opened and Demonstrated the KIHASA Digital History Museum, a knowledge transfer system for the preservation of policy research history and its transfer to the next generations.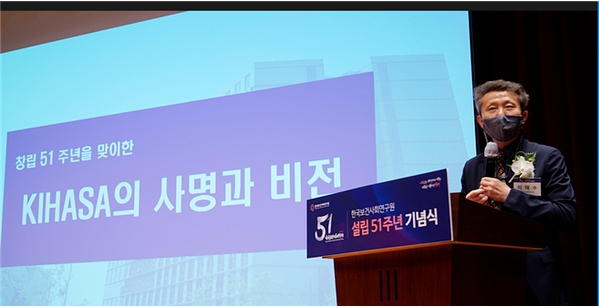 Lee Tae Soo, President of KIHASA

In commemoration of its 51st anniversary, KIHASA declared that it would pave a new path for Korea's welfare state.
KIHSA on July 20 held the 51st anniversary ceremony at an auditorium in the Research Support Building at the Sejong National Policy Research Complex. The ceremony was attended by a minimum number of participants in compliance with the Covid-19 social distancing guidelines, and it was also broadcast via webcast.
Discovering in 2020 important documents shedding new light on its founding, KIHASA reset its official founding date from the opening date of the Korea Institute for Family Planning on July 1, 1971 to that of the National Family Planning Center on July 20, 1970, celebrating this year not the 50th anniversary but the 51st.
Opening with the president's proclamation of a new vision for KIHASA, the ceremony was conducted in the following order: part I-the road taken, "A 51-year history of policy research in health and welfare"; part II- KIHASA from the past to the future; awarding of appreciation plaques and appreciatory words; awarding of excellent research and policy contribution prizes; and a group photo shoot.
In Part I, "The Rod Taken, a 51-year History of Policy Research in Health and Welfare," it was confirmed through a report on the re-establishment of the founding date of KIHASA and the opening and demonstration of the KIHASA Digital History Museum that KIHASA is ready to take a new leap forward toward the next 100 years.
In Part II, "KIHASA from the Past to the Future," a video was shown that recorded 51 voices of KIHASA staff who took part in the celebration and shared their ideas toward the future.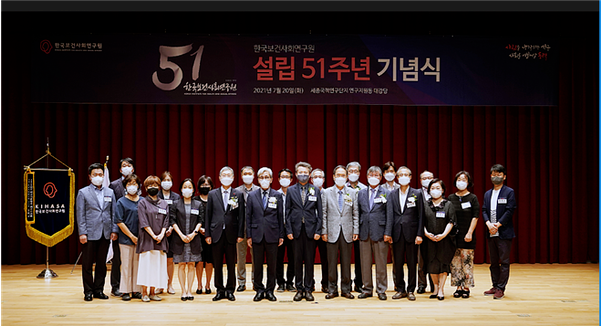 Next, president Lee Tae Soo announced KIHASA's new vision and mission. He emphasized, "KIHASA's mission is to create a country where everyone can enjoy a healthy 100-year lifespan without fear, discrimination and alienation and where diversity is respected." He said that in the face of a crisis of inequality, inequity, and disparity at the turning point of a new era, Korea has to overcome the new challenges of the future in population, economy, society, environment, and politics, and overcome the 'delayed welfare state' and pioneer a new road for the Korean welfare state. He added, "Until the day we accomplish our mission and realize our vision, I will keep working on making KIHASA an exciting workplace with open communication. We are KIHASA, people with people in mind. Let's go together."
Jung Hae-Gu, chairman of the National Research Council for Economics, Humanities and Social Sciences, in his congratulatory remarks, congratulated KIHASA on celebrating its 51st anniversary this year by finding a lost year of history, adding, "Since industrialization in the 1970s, Korea has not developed in a balanced way between economic growth and social welfare. As a result, we are ranked in the top 10 in the world in terms of economic power, but are facing a new challenge of inequality and polarization. In the face of such future challenges, KIHASA's 51st anniversary has a special meaning. I hope KIHASA will take another leap into the future, building on its past history.
At this ceremony, Cho Nam-Hoon, former vice-president of KIHASA and Lee Seung-Uhk, professor emeritus of Seoul National University, were both awarded a plaque of appreciation for donating historical documents and advice for the KIHASA Digital History Museum. There was also an awarding of Excellent Research and National Policy Contribution Awards.
For the past half century, KIHASA has established itself as a top think tank in social policy, contributing to the development of Korea into a safer and happier society through policy research aimed at promoting the health and welfare of the people.