Every Year 740 People with Disabilities Leave Institutional Care, and the Government Plans to Provide Them with Jobs and Housing Assistance
Media Date : 2021-08-02
News Media : Hankyoreh
Translated from the Hankyoreh, August 2, 2021
Every year 740 people leave institutional care, and the government plans to provide them with jobs and housing assistance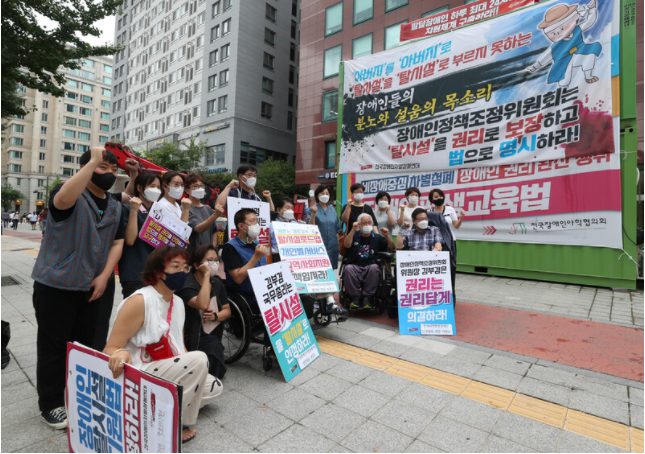 The government on August 2 released its "Roadmap for Supporting People with Disabilities Who Leave Institutional Care for Independent Living," drawing keen attention to whether people with disabilities for whom institutional care has been taken for granted can properly take the first step to coexist with people without disabilities in community settings. People with disabilities, however, expressed their disappointment that the government's blueprint focused only on measures for the transfer from institutional care, lacking in practical measures for supporting their everyday activities for independent living.
According to the roadmap, a pilot project will be implemented for three years from 2022 to 2024 before the full-fledged support begins for deinstitutionalized people with disabilities. Within this month, for starters, there will be established a central community integration center for people with disabilities, which will play the role of a 'control tower' for the support policy for deinstitutionalized people with disabilities. This center, whose operation will be commissioned to the Korea Disabled People's Development Institute, will develop models for community placement and monitor local governments' community placement programs. In addition, starting from next year, within each residential facility will be organized an independent living support unit to play a bridging role between the residents at the facility who want to leave and outside organizations that support people with disabilities. During the period of the pilot project, 10 areas will be selected through an open process and 20 individuals in each area will be supported for their self-support.
The government's goal is to complete community placement by 2041 by supporting 740 people with disabilities every year from 2025 when the pilot project ends. To this end, the government plans to provide a range of services including services of public rental housing installed with disabled-friendly facilities, housing management services that support with rental contracts and financial matters, and services providing jobs that fit people with disabilities. At the same time, it will change the names of the existing residential facilities to 'Housing Service Providers,' and ban the construction of new residential facilities.
This roadmap is a change 40 years overdue in the government's disability policy from viewing people with disabilities only as the object of protection, thus taking for granted their separation from mainstream society, to the view that they should be provided with services that help them live independently in the community.
According to a complete enumeration survey conducted last year by the Korea Disabled People's Development Institute, there are 1,539 residential facilities for people with disabilities across the country, and 29,000 people with disabilities live in such facilities. Their average length of stay at the facility is 18.9 years, which is very long. When asked during the survey, 33.5 percent of 6035 people with disabilities who can communicate said they want independence.
In response to the government's roadmap, people with disabilities are raising concerns that the government seems to lack willingness for deinstitutionalization. "It is very important to link people with disabilities with community-based services for them, but the main content of the roadmap is only about making some changes in residential facilities. Furthermore, the plans for the abolition of such facilities contained in the roadmap are not aggressive enough that they are only designed to downsize large facilities into small 'group homes,' said Lee Jeong-Ha, an activist for civil rights for individuals with disabilities, adding that this might lead to creating a balloon effect in which small residential facilities continue to operate in an unclear form.
It was also pointed out that, for true 'deinstitutionalization,' there should be an improvement in the 'activity support services system,' in parallel with the changes expected with the roadmap. In the current system, when a person with disabilities applies for an activity support service, the government determines monthly support time based on a general assessment they carry out. Depending on the activity support level, some people may have to make a certain co-payment. Regarding this, the Korea Institute for Health and Social Affairs published a report last year titled a "Study on the Pathways from Institutions to Community Living for Persons with Disabilities," pointing out the need for providing activity support services as soon as people with disabilities are placed in community settings because if not, there might occur a gap of care that may stretch to several months.
Justice Party lawmaker Jang Hye-young, who co-initiated the Deinstitutionalization Support Act for People with Disabilities last December, pointed out, "it is also important how to make binding the 'transition to self-support over 20 years' presented in the roadmap."
The government announced that in order to create a legal basis for the roadmap, it would enact the "Act on Civil Rights for Individuals with Disabilities" in the second half of this year, stipulating the guarantee of independent living in community settings as basic rights of the disabled. In response, Jang said, "The final bill to be enacted should specify deinstitutionalization as a basic right of the disabled and properly stipulate national responsibility for the period in which deinstitutionalization is implemented."