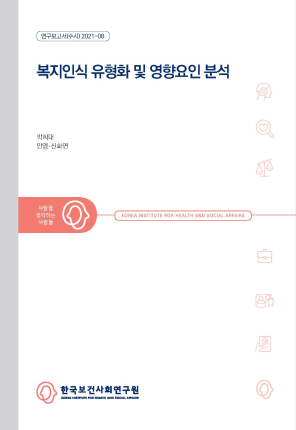 Classification according to Welfare Awareness and Analysis of Influence Factors by Group
Author

Park, Heedae

Publication Date

2021

Pages

111

Series No.

연구보고서(수시) 2021-08||978-89-6827-790-0

Language

kor
In recent years, the scope and beneficiaries of social security have been continuously expanding in South Korea. Accordingly, social welfare expenditure has been steadily increasing. Although the expansion of welfare policies continues, efforts to identify and verify the effects of welfare policies have been relatively neglected. Identifying the effectiveness of welfare policies and finding out the way to increase their effectiveness helps to reduce blind spots in welfare policies. As a result, welfare benefits can spread to a broader range of people.
This study aims to identify the beneficiaries' perception of welfare policies and to derive methods to increase the effectiveness of policies.
This study classifies beneficiaries based on their specific patterns of perception of welfare policies, which are hidden behind inconsistent responses about the satisfaction with various welfare policies. Individuals were grouped into four groups, and factors influencing group decisions were identified. The data used for the analysis was a welfare perception survey conducted by the Korea Welfare Panel Study. A Clustering methodology was used to classify groups with similar welfare perceptions, and a logistic regression model was also used to analyze how the groups were determined.
As a result of the analysis, beneficiaries could be divided into four groups based on the perception of various welfare policies. Each group had different characteristics according to the perception of the government's welfare policy. In addition, factors determining each group were different according to various demographic and sociological factors.
This study could show which factors are essential to maximize the effectiveness of welfare policies and the satisfaction of beneficiaries. Therefore, the analysis results derived from this study would be helpful when prioritizing the beneficiary groups.
Attachments
첨부파일

연구보고서(수시) 2021-08.pdf