The 25th Population Forum: "New Middle Agers, How Prepared Are You for Old Age?"
New Middle Agers, How Prepared Are You for Old Age?: The 25th Population Forum co-hosted by KIHASA and the Presidential Committee on Aging Society and Population Policy (PCASSP)
■Due to the rapid aging of the population and the weakening of family support in the population, 'individual preparation for old age' is not an option but a must.

■The new middle agers' labor force participation rate is 37.4 percent; they are a population group with diverse educational backgrounds, employment status, and income levels.

■Policies for the new middle aged are an important response to aging society; measures are needed to encourage their social participation and to create jobs they can thrive in with dignity.
■KIHASA, on August 19, co-hosted the 25th Population Forum with the Presidential Committee on Ageing Society and Population Policy (PCASSP) on the topic of "New Middle Agers, How Prepared Are You for Old Age?" This forum was webcast live on KIHASA's official YouTube channel.



■In the opening remarks, president Lee Tae Soo of KIHASA said, "It is one of Korea's unique aging phenomena that the perceived retirement age, which is 49.7, is at variance with the actual retirement age. This means that those currently in their 50s and 60s might have to work to provide for their needs for maximum 15 years from the start of their retirement until the first receipt of their pensions." He expressed his concerns for this age group, saying, "The so-called 'stuck generation,' the new middle-aged are neglected by a cold logic that the responsibility for their livelihoods in old age lies solely with themselves, whereas the social and economic structures are not likely to produce as many jobs as they did in the past for this age group." He said that the 25th population forum is part of an effort to study these phenomena in depth and to create a social and institutional response. This forum is a meaningful opportunity to hear the voices of both experts in the field and the public about this new policy challenge, he said, adding that he hopes it to be a meaningful event that gives the new middle agers an insight to their preparation for old age.



■Park Jin-kyung, director general of the PCASSP, said, "Since August 2017, when the government first called people in their 50s and 60s 'new middle agers,' it has been strengthening policies for this age group, including a so-called 'triple cropping policy.' Policy measures to encourage these middle agers to actively participate in the labor force and in society with dignity are included in the 4th Basic Plan for Low Fertility and Aging Society released in 2020. Since the population problems due to low fertility and aging society have become one of the most important agenda of our society, formulating policies for the new middle aged is an important adaptation of our society to population aging." He added, "I congratulate on the 25th population forum and hope it will be an answer to these challenges and an important step towards creating hope and momentum for new middle agers to take the lead for better life and a better society."



■The sole presentation at the forum was given by Hwang Nam-Hui, head of the center for research on aging society at KIHASA, on the topic of 'the current state and challenges of policies for supporting old age preparation.'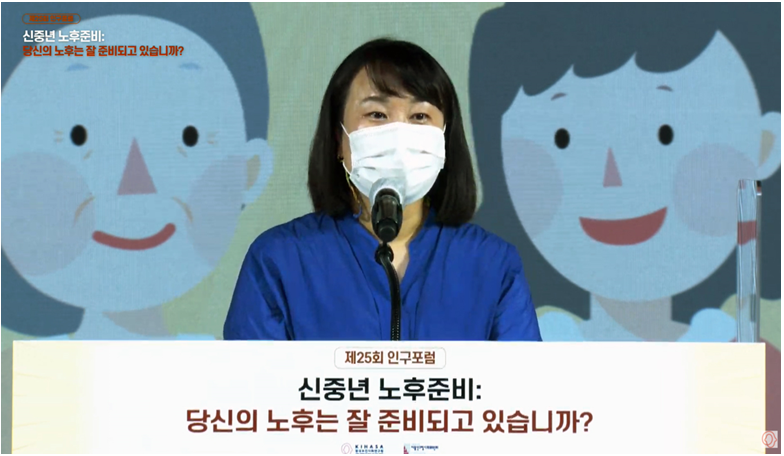 ■Hwang said, "The proportion of the elderly population in Korea is expected to rise sharply from 7.2 percent in 2000 to 20.3 percent in 2025, with the elderly dependency ratio expected to rise in parallel from 10.2 in 2000 to 38.2 in 2030." She added, "Korea's relative poverty rate of the elderly over 65 years of age is 43.8 percent, the highest among OECD member countries. However, its level of public spending on the elderly is 2.7 percent of GDP, one-third of the total public expenditure of 10.1 percent of GDP, a very low level, ranking 35th among 37 OECD countries. Even considering that the size of the public expenditure is not big enough due to the immaturity of the public pension system, still the relative poverty rate is very high and the public expenditure level is low."



■She reiterated that in a country where the welfare system including the public pension scheme is not mature, and where the population is aging fast and family support is weakening, personal preparation for old age is not an option but a must. She said, "People should make plans for old age before entering it, and the earlier the preparation, the better. To help make universal old age preparation services and life career design services, there should be cooperation between similar services; and a client-centered one-stop service should be provided by linking resources available in localities." She added that customized support should be provided by means of developing old age preparation support programs well balanced between areas and nurturing relevant professional workforce, including creating jobs for them, providing them with things to do, and strengthening information service.



■At the round table that followed, Lee Geum-yong, president of the Korea Gerontological Society, led the discussion on the 'development of policies for old age preparation at the transitional period in life.' Those who participated in the round table were Kim Yeon-suk, a director of the PCASSP, Sung Hye-young, research fellow at the National Pension Research Institute, Jeon Seong-in, CEO of Ganghwa Silk Road Cooperative, Jin Kyung-bae, research fellow at the Korea Generation Convergence Research Institute, Hwang Nam-Hui from KIHASA, and Hwang Yun-ji, head of Seoul 50+ Center.



■The interview videos put on the screen at the forum were about seven cases of users and non-users of old age preparation support services that responded to the seven questions below:

Q 1: Would things about family support affect your old age preparation?
Q2: How would you like to live in your old age?
Q3: Are you making any plans for your old age?
Q4: Have you used government services for old age preparation?
Q5: Preparation for old age, when do you think it should start?
Q6: Are you making any progress in making plans for old age?
Q7: What do you think the government should do in this matter?