Securing the Three Pillars of Health Care Resources is Key in Response to Covid-19
Securing the Three Pillars--Health Workforce, Equipment, and Hospital Beds--Is Key in the Response to Covid-19
■ The higher the number of doctors and nurses is, the lower avoidable mortality is; having enough workforce in place is important in responding effectively to an unforeseen infection crisis like the Covid-19 pandemic

■Amid increasing care bed occupancy rates in the Capital region, securing care beds is important for the treatment of covid-19 patients
■The Korea Institute for Health and Social Affairs has published Issue & Focus, No. 408, "Securing the Three Pillars of Health Care Resources in Response to Covid-19."

■Dr. Shin Jeong-Woo, head of the Center for Statistical Research and Development at KIHASA, said, "The OECD recommends to mobilize staff to diagnose and treat patients; boost supplies of required equipment to diagnose people and provide them with acute treatment when needed; and optimize space to isolate and treat patients. I conducted a study to take a look at the past one and half years of effort the government has exerted to mobilize these resources the OECD regards as the three pillars of health care resources, and to investigate what remains to be done."
The summary of this Issue and Focus:
■The Covid-19 pandemic has revealed the importance of securing enough workforce, equipment and care beds and the need for optimized allocation and deployment of health care resources.

■There were enough health care workforce and care beds in Korea at an early stage of the pandemic thanks to the government's rapid policy response and cooperation from private health providers; the government established a safe infectious disease response system through such an innovative technology as drive-through covid-19 testing.
1. Staff mobilization
■Doctors and nurses are essential for any health care system to work properly. Thus, having enough workforce in place is a way of building up the capacity of the health care system to respond effectively to an unforeseen infection crisis like the Covid-19 pandemic.
- According to OECD statistics, countries with a high number of deaths that could have been avoided through 'preventive actions' and 'timely health care interventions' mostly had a low number of doctors and nurses per population, whereas, as the green dots in Figure 2 suggest, countries with a low avoidable mortality rate had a high number of health care professionals.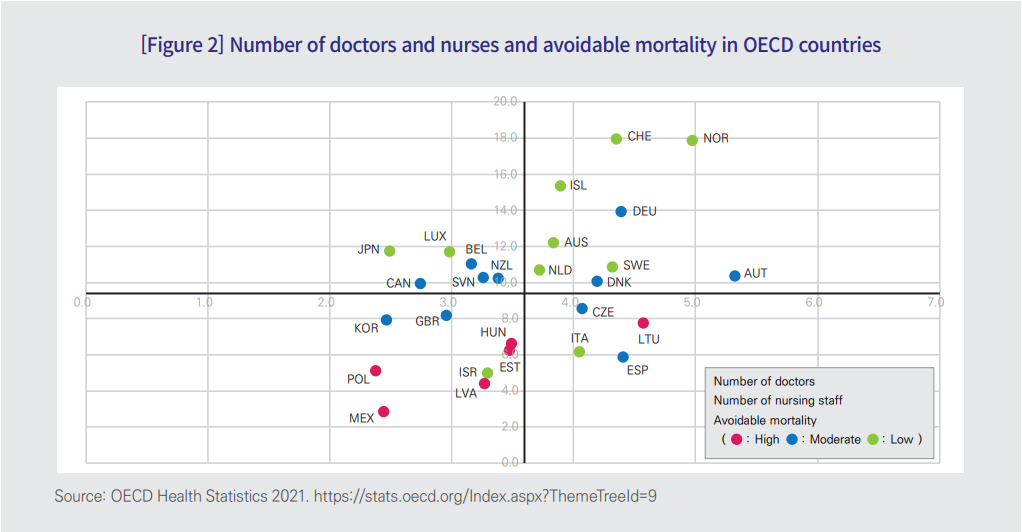 2. Equipment provision
■The OECD underscored how important it is in times of the Covid-10 pandemic to retain an expanded reserve of personal protective equipment―such as masks, face shields and hand sanitizers―and medical ventilators and also to closely monitor the availability of essential medicines.

■With no drug developed as yet for treatment exclusively of Covid-19 cases, health care institutions in Korea have been using mechanical ventilators or extracorporeal membrane oxygenation (ECMO) to provide extra oxygen for Covid-19 patients with respiratory failure.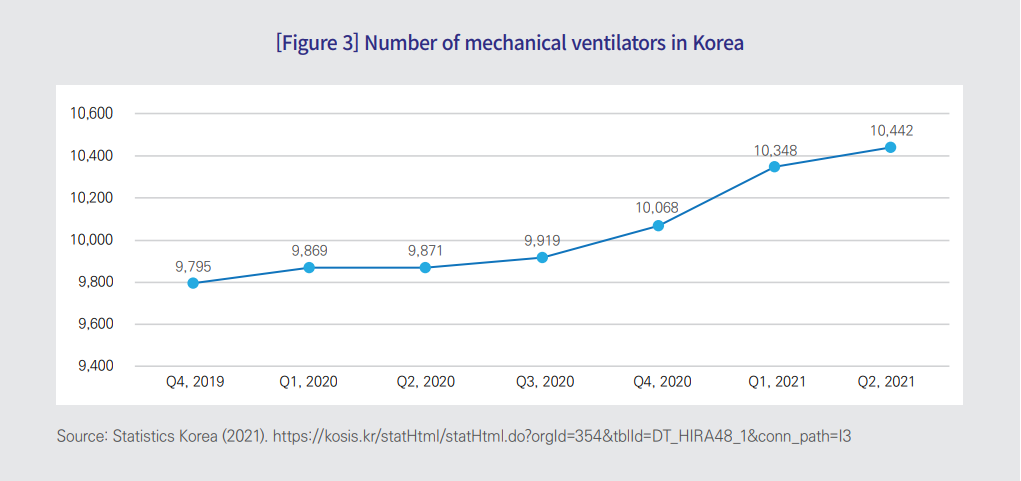 ■Confronted with a huge unmet demand for facial masks that was engendered by the Covid-19 pandemic, the government implemented a "public mask provision" program using the system of drug utilization review employed by the Health Insurance Review and Assessment Service. Recently, Covid-19 testing has been made easier with the self-testing kits made available for purchase at local pharmacies and stores.

■As of August 2021, Korea had some 600 designated testing stations set up at public health centers and hospitals throughout the country to conduct diagnostic screening on potential Covid-19 patients, with drive-through Covid-19 testing making safe and efficient testing possible.
3. Having care beds at the ready for Covid-19 patients
■It is important to secure enough space to diagnose suspected cases of Covid-19 infection safely and efficiently and to treat Covid-19 patients in isolation. Acute care beds are the most representative of such spatial resources.

■As of July 19, 2021, the number of care beds available for use for Covid-19 patients was 21,962, of which 13,102 were those available for use for mild Covid-19 cases at residential treatment centers; 7,642 were those available at infectious disease control hospitals; and 412 and 806 were those available at moderate-intensive care units and intensive care units, respectively.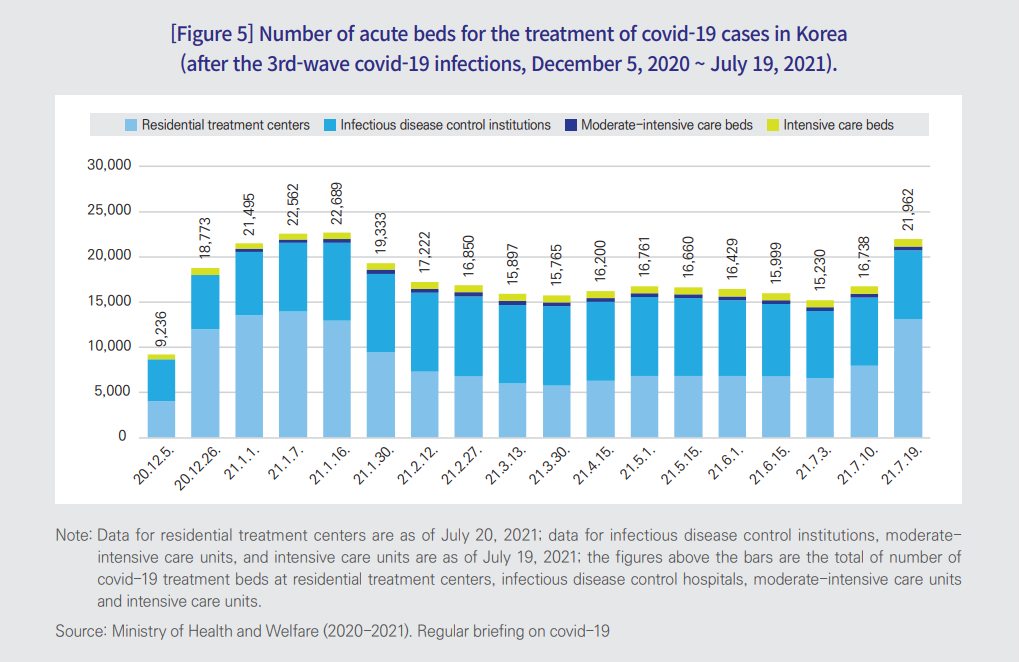 ■The government and local authorities have been working together, operating "bed allocation teams," for adequate distribution of care beds. Also, efforts have been ongoing to monitor bed occupancy rates, with a view to leaving as many beds as possible for Covid-19 patients.
- As of July 19, 2021, occupancy rates varied considerably across different care settings, including residential treatment centers (63.9 percent), infectious disease control hospitals (66.1 percent), moderate-intensive care units (61.7 percent), and intensive care units (35.9 percent).
- By region, cared bed occupancy rates were especially high in the Capital Region (71.0 percent), Gangwon Province (65.2 percent), and Chungcheong Province (61.3 percent).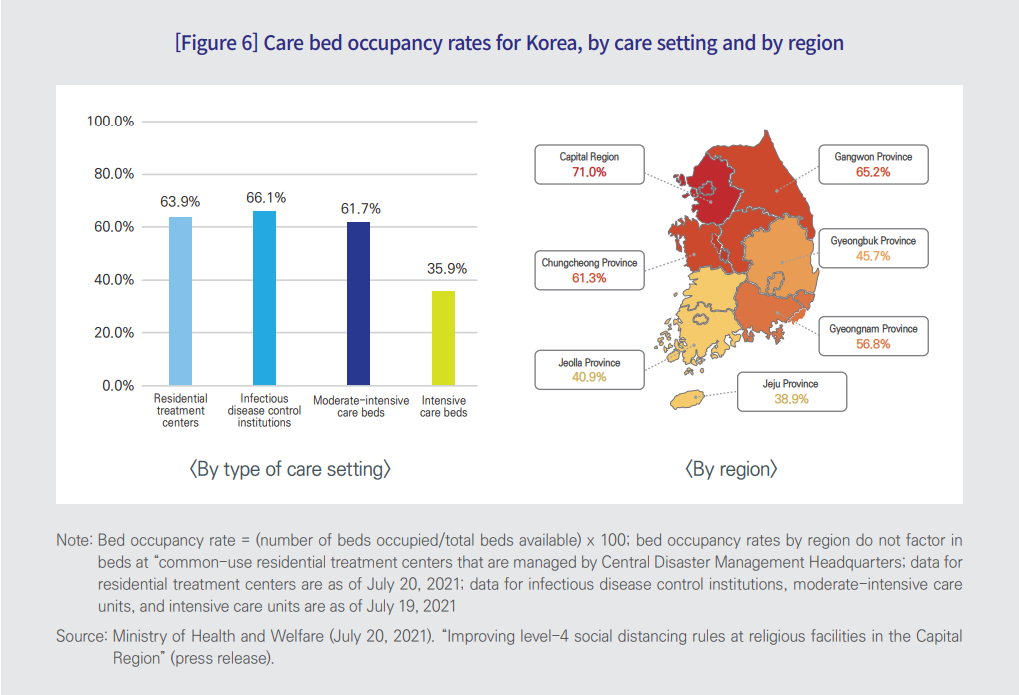 4. Concluding remarks
■Having in place sufficient health care resources is an important aspect of a resilient health care system, but not every country can have sufficient health care resources in reserve at all times. Nor is it proport to pub all health care resources exclusively in the public sector.

■This is why it is important that the government have the ability to swiftly mobilize resources and engage private-sector partners as needs arise
- It is important to plan ahead for securing such high-priced medical resources as ECMO machines, as they can be hard to come by when needed.
- There is a need for a system to monitor real time bed occupancy rates that ever vary depending on the varying number of severe cases, so as to be able to respond to any need for inpatient treatment arising from Covid-19 infections.

■By the OECD standards, the number of health professionals (doctors and nurses) per population has remained low in Korea. In these circumstances, the government has worked keenly to mobilize health care professionals to support work at understaffed medical institutions in the throes of the Covid-19 pandemic. Korea's Covid-19 testing system, reinforced by drive-through testing, has been safe and effective all along.

■Plans have been implemented to use private-sector hospital beds to isolate and treat Covid-19 patients. A governance system has been established that enables authorities to allocate health care resources, including beds, to where they are needed. Compensation programs have been implemented, so that no losses are left uncompensated for health care institutions participating in the national response to Covid-19.

■Along this process human resources support for frontline health care providers has at times been looked upon by some as inequitable and a few cases of insufficient compensation have been pointed at. However, the crisis we find ourselves in is one which no one had experienced or prepared for. The issues that have arisen along the way will be worked out down the road with experience and through agreement and cooperation.
- Urgently, regulations and guidelines should be overhauled so that medical institutions are equitably supported with additional medical workforce and so as to ensure fair treatment, in workload and compensation, for health care professionals dispatched to local medical institutions.
- Also, "infection control allowance," which has been paid on a time-limited basis to those taking part in the response to the Covid-19 pandemic, should, given the health risk to which those health care professionals are exposed, be implemented on a continued basis.

■Also, a standardized electronic health record system will be needed to ensure that disease data is collected in a timely fashion and surveillance conducted on a continued basis on Covid-19 situations to prevent and contain the virus.