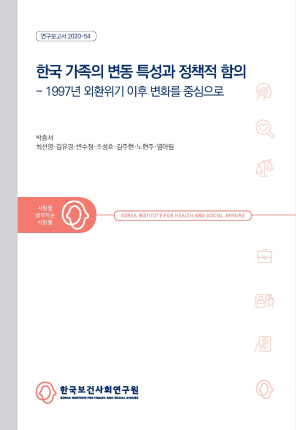 Family Changes in Korea and Their Policy Implications
Author

Park, Jongseo

Publication Date

2020

Pages

455

Series No.

연구보고서 2020-54

Language

kor
This study aims to examine the direction and characteristics of changes in Korean families since the end of the 1990s, and to suggest policy implications accordingly.
While Korea as a society has taken steps toward diversity, Korean families have not made much progress in that direction. The nuclear family is still the main form of families, with its proportion decreasing and diversity expanding. However, although some late-modern elements are observed in the expansion of diversity, early-modern features still persist or deepen. In the past 30 years, there has been little improvement in gender equality in family care and the labor market.
Having emerged in the system of developmental state, familism remains strong as a family support system. As policies and systems advanced, the dependence on public services for caring and child rearing increased, but the time and cost burden on the family did not reduce. Although the supply of services has expanded, the roles and functions required of the family have not changed as the structure of Korean society as a whole remained unchanged.
Family changes in the future will go further. This is because society will continue to change amid rapid technological change and globalization, and it is not yet clear in which direction the new generation that makes up the family will move. Families will continue to change in the future. This requires flexible policies and institutional approaches. Otherwise, there will emerge that can Otherwise, there will emerge many incidents of inconsistency between policy and the reality.
For the socialization of care, more proactive system improvement is needed. Gender equality in the labor market should be further emphasized. In particular, in terms of the functional aspect of the family, it is necessary to improve the gender-balanced system in working hours and child care hours. Finally, it is necessary to support marriage and childbirth as a way to help individuals in their early stages of family formation to improve their living conditions.