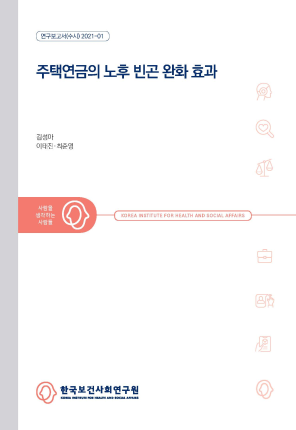 The Effect of the Home Pension on Poverty Reduction
Author

Kim, Seonga

Publication Date

2021

Pages

177

Series No.

연구보고서(수시) 2021-01

Language

kor
South Korea has been ranked 10th in the world in terms of gross domestic product. However, older adults in Korea spends many years working to eke out a living well past their retirement age. This study aims to analyze what effect the expansion of home pension would have on reducing elderly poverty and on decrease the risk of poverty among the middle-aged.
Results show the home pension effectively reduces old-age poverty rates for both the current elderly population and the middle-aged in Korea. Furthermore, a gradual expansion of the home pension is found to have an effect of reducing the inequality between the elderly and the general population. The home pension, an asset liquidity mechanism, is more beneficial to middle-class home owners. However, a full-scale expansion of the home pension may aggravate the inequality between the current old-age population and the future old-age population.
The fact that the take-up rate of the home pension remains at only 1% reveals the need for a gradual expansion of the home pension, whereby individuals who are old or are in preparation for retirement can make a choice with the freedom to liquidate their homes for old-age income. The home pension should gradually extend to cover the middle class, but those who are asset-rich and income-poor, accounting for 11.6 percent of all households, need to be covered first. This study recommends to strengthen the role of the home pension as a formal old-age income security program, and to increase ease of access for individuals so that they can freely decide to participate in the program.
Attachments
첨부파일

연구보고서(수시) 2021-01.pdf