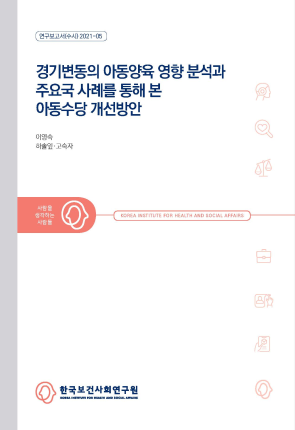 An analysis of the impact of economic fluctuations on child rearing and the improvement plan for child allowance through case studies of major countries
Author

Lee, Youngsook

Publication Date

2021

Pages

125

Series No.

연구보고서(수시) 2021-05

Language

kor
As a result of the analysis using Household Income and Expenditure Survey(HIES), the consumption of child household is larger in size and propensity to spend than no-child household. And as the proportion of education expenses is high, consumption for leisure and housing decreases especially in school-age, multi-child, and low-income households during the economic downturn.
In the analysis using KOREA Welfare Panel Study(KOWEPS), the effect of raising the poverty rate of child support based on equivalised disposable income in 2018 was 3.5%p, the effect of lowering the poverty rate of the child sector's wage is 1.0%p related to childcare, 0.09%p child allowance (September to December), and 0.05%p CTC.
Given the economic difficulties of raising children and the institutional examples of OECD countries, the current child allowance needs to be expanded into a more multi-layered support system by expanding the age group, adding selective support based on the number of children, and combining systems for the vulnerable class such as single-parent, dual-income, and unemployed households.
Attachments
첨부파일

연구보고서(수시) 2021-05.pdf