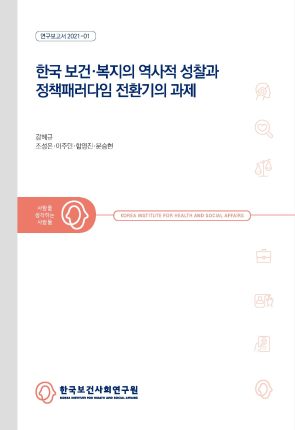 Historical reflection on Korean health and welfare and the task of policy paradigm shift
Author

Kang, Hyekyu

Publication Date

2021

Pages

341

Series No.

연구보고서 2021-01

Language

kor
The recent global spread of COVID-19 has a ripple effect that heralds a great change in human civilization. Due to this, the fundamental changes in daily life are expected where no one can be exempt from. Therefore, it is indispensable to transform the state responsibility and the levels of intervention for the welfare of people, and the design and the operation of welfare policies and system. It is also necessary to examine and reset the fundamental social policy paradigm.
This study consists of two major parts. First, it is intended to identify the characteristics of Korea which could be described by process of policy formulation and current status by systematically and comprehensively analyzing the development history of health and welfare policies. Based on this, the study suggests changing factors and related policy tasks that should be noted and studied for policy paradigm shift. In particular, the aspect of health and welfare policies and short- and long-term tasks to cope with the crisis of great transformation by COVID-19 pandemic will be the focus of discussion.
Second, the study intended to develop the history of health and welfare policy and related research materials into digital contents which could increase the universal understanding and awareness of health and welfare policy by improving the public accessibility of health and welfare policy information. In order to be prepared for a future research environment where the zero contact(non-contact) is expected to become a new normal, it is intended to provide an online space for examining the past, present, and future of health and welfare policies and research from KIHASA by establishing an archive of research records at the online space.